Recipe Ideas
Eggroll Vermicelli Salad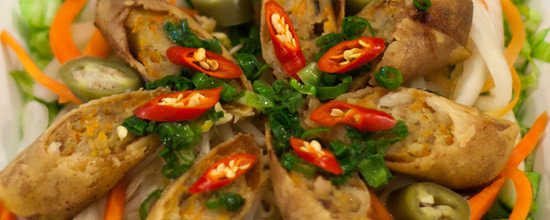 Ingredients:
1/2 cup of fish sauce
1 head of green leaf lettuce
1 package of dried vermicelli
1/2 cup of plain roasted peanuts, crushed
1 carrot, finely shredded
1 cucumber, julienne cut
1 package of Saigon Eggrolls
Nuoc Mam Sauce

Directions:
Cook 24 eggrolls according to package instructions. Set aside to cool. Remove lettuce leaves from stem and wash thoroughly. Chop leaves in 1" strips and divide into 4 large bowls. In a large pot, boil enough water to cover vermicelli. Cook vermicelli in boiling water for 8-10 minutes or until tender. Drain cooked vermicelli and rinse in cold water. Divide vermicelli into 4 equal parts and place in bowl with lettuce. Add eggrolls, carrot, and cucumber to each bowl and sprinkle with crushed peanuts. Serve with Nuoc Mam Sauce as dressing.