Recipe Ideas
Hong Kong Wonton Soup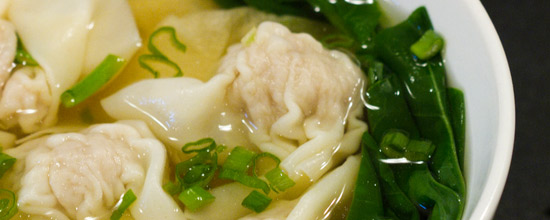 Ingredients:
1 package of Hong Kong Wonton
4 cups of water
2 cans of chicken broth
Salt and pepper to taste
1 bunch of green leaf lettuce, washed and chopped
1 bunch of green chives, washed and cut into 2 inch sections
Green onion, thinly sliced as desired
1 tsp of sesame oil
Directions:
Cook wontons according to package instructions. Drain and divide wontons into 4 bowls. Set soup seasoning aside. In a large pot add water, chicken broth, soup seasoning and bring to a boil. Add additional salt and pepper according to taste. To serve, add lettuce, green chives to wontons and ladle soup into prepared bowls. Garnish with sesame oil and green onions.